Energy Valuation Conference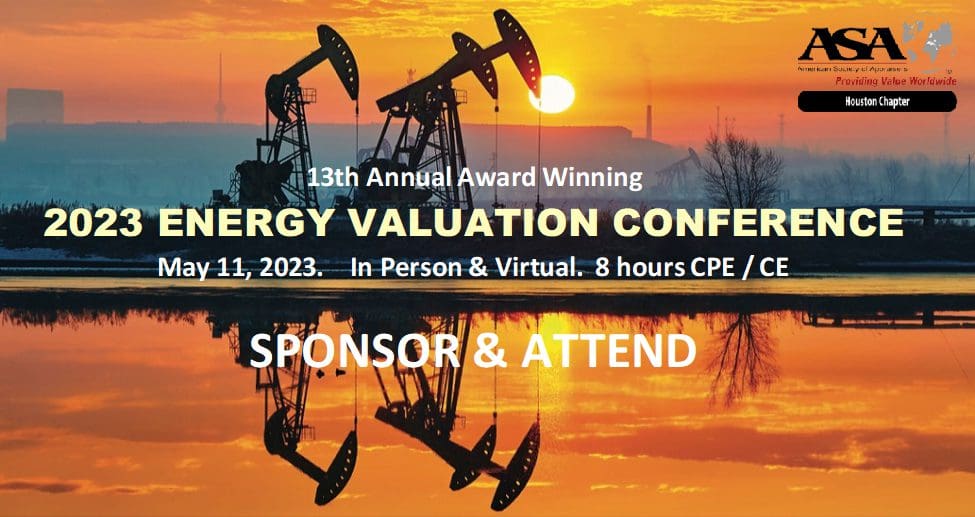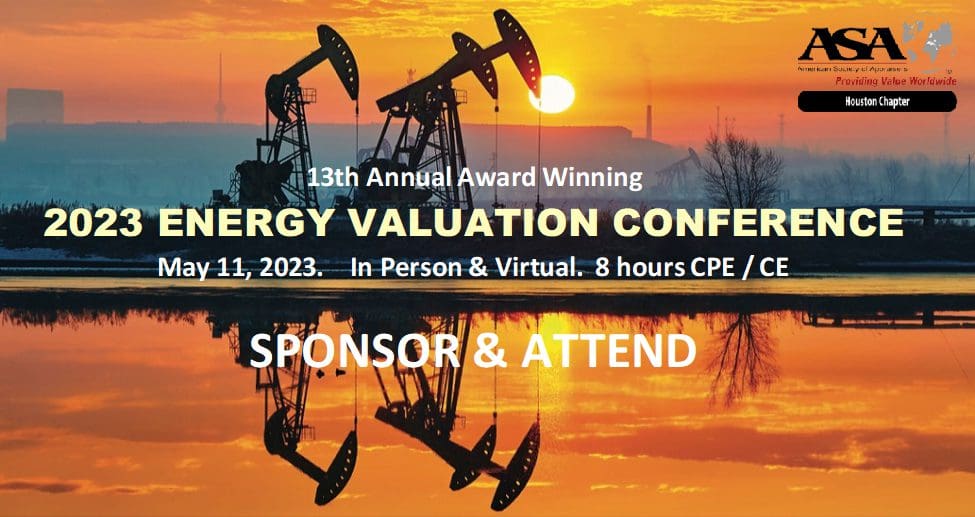 Join ASA's Premier ENERGY VALUATION Event!  ASA Houston Chapter's 13th Annual Award-Winning 2023 ENERGY VALUATION CONFERENCE will be held on Thursday May 11, 2023 in HYBRID format.  Attend either In Person at THE BRIAR CLUB, 2603 Timmons Lane, Houston, Texas 77027 or Virtually via convenient LIVE WEBCAST by Business Valuation Resources.
The 2023 ENERGY VALUATION CONFERENCE (EVC) is unique in that it is the only MULTI DISCIPLINARY conference with a focus on leading edge VALUATION TECHNIQUES applicable to ALL SECTORS of the ENERGY INDUSTRY.
2023 EVC brings together pre-eminent energy valuation professionals and industry thought leaders presenting timely educational valuation topics, focusing on the transition of power generation from fossil fuel to non-carbon, renewables, sustainable energy, and ESG energy (environmental, social, governance issues).
Featured speakers represent all sectors of the energy industry offering new perspectives on business valuations, machinery & technical specialties appraisals, accounting developments, appraisal review & management, mineral appraisals, real property, financial analysis, and more. Learn how this dynamic and cyclical industry affects businesses world-wide and how it plays a vital role in the performance, cost structure and profitability of your clients. Attendees will gain a better understanding of the current economic and geopolitical conditions of the industry, and learn perspectives on challenges in energy valuations, including which sectors are rebounding.
What makes energy valuation so important to appraisers?
This dynamic and cyclical industry affects all cities around the world. Even if your client isn't an energy company, energy can still play a vital role in its performance, cost structure and profitability.
What will attendees take away?
A better understanding of the current economic and geopolitical conditions of the industry, and learn perspectives on the challenges in energy valuations as the industry turns toward renewables, and how this impacts each sector. EVC is a very holistic and well-rounded conference that attendees enjoy and learn from - not just appraisers. Our goal is to expand our outreach to include those in related professional groups and industry associates.
Dr. Christine Ehlig-Economides, Petroleum Engineering Professor & Hugh Roy & Lillie Cranz Cullen Distinguished University Chair
University of Houston
"Leading the Way to Carbon Neutral and Hydrogen Power"
Dr. Christine Ehlig-Economides is Professor and Hugh Roy and Lillie Cranz Cullen Distinguished University Chair at the University of Houston. Prior to her current position, Ehlig-Economides taught at Texas A&M University for ten years and worked twenty years for Schlumberger. While at A&M, she managed research in production and reservoir engineering in conventional and shale reservoirs and helped the petroleum engineering department to grow and evolve to a broader energy scope. Ehlig-Economides was elected to the U.S. National Academy of Engineering in 2003 and was a member of the National Academy of Science Committee on America's Energy Future and the NRC Board on Energy and Environmental Systems (BEES). She chaired The Academies of Medicine, Engineering, and Science in Texas (TAMEST) shale task force in 2017. She currently is a Board member for QRI. She became an Honorary Member of the Society of Petroleum Engineers in 2018.
Michael Hoyt, Managing Director
KPMG
"Energy Production Tax Credits - Financial Reporting"
Michael Hoyt is a principal of KPMG's Economic and Valuation Services group based in Houston.  He joins from EY where he served as senior manager for the Transaction Advisory Services, Business Valuation and Modeling practice. 
Matthew Bradshaw, CCUS Executive
Shell Oil Company
"Carbon Capture, Utilization & Storage - Analyzing the Process"
Matthew Bradshaw, is an accomplished executive manager with extensive experience at Shell, an International Oil & Gas Company.  Mr. Bradshaw's experience expands from Upstream operations, projects and engineering for Deepwater, Conventional Shale oil and gas exploration as well as Midstream Commercial.  He has led multi-discipline teams to deliver bottom line impact and top quartile performance through a continuous improvement mindset.  Mr. Bradshaw is passionate about safety leadership and people development.  He earned a Bachelor of Science in Mechanical Engineering from Louisiana State University.
Gregory W. Kort, P.E., ASA, Managing Member
RKN Valuation Advisors, LLC
"Valuation of Energy Infrastructure in a Carbon Neutral Market"
Gregory W. Kort, P.E., ASA, energy infrastructure appraiser in Austin, Texas. He has over 20 years of valuation experience in ad valorem property tax complex, purchase price allocations, and studies for fair market value in continued use and in exchange.  Properties he has been engaged on include petroleum refineries, petrochemical plants, electric power generation facilities, breweries, pipelines, general manufacturing and other business personal property.  Mr. Kort is certified in Wisconsin as a Professional Engineer (P.E.), licensed as a Certified General Appraiser in Texas and Wisconsin, and is an Accredited Senior Appraiser (ASA) of the American Society of Appraisers. Mr. Kort graduated from Michigan Technological University in 1994, earning a Bachelor of Science in Chemical Engineering, and received his MBA from DeVry University in 2002.
Jake Boos, Managing Director – Investment Banking
TUDOR, PICKERING, HOLT & CO.
"Exploration & Production / Upstream Valuations"
Jake Boos is a Managing Director in the Investment Banking division of TPH&Co., the energy business of Perella Weinberg Partners, where he helps lead the Upstream coverage team.  Jake has worked in the Investment Banking division of TPH&Co in roles of increasing responsibility since starting as an analyst at the firm in 2011.  Prior to TPH, Jake worked as an equity research analyst at Maple Leaf Partners in New Orleans, a long/short value hedge fund focused on the energy, industrials, and retail sectors. Boos holds a BS in Finance from Louisiana State University.
John Daniel, Founder & CEO
DANIEL ENERGY PARTNERS
"Oil Field Services – Valuation Issues"
John Daniel is a Managing Partner and Founder of Daniel Energy Partners.  Prior to founding Daniel Energy Partners, John served as a Managing Director and Senior Research Analyst with Simmons Energy, A Division of Piper Sandler, covering the U.S. onshore Oilfield Services sector for over twelve years. Prior to Simmons Energy, John worked for Key Energy Services for eight years, serving most recently as Vice President, Corporate Development. Responsibilities included investor relations and mergers & acquisitions.  John also spent four years as an analyst with PNC Bank, serving in their corporate banking and leveraged finance groups. John graduated with a BS in Finance from Lehigh University and an MBA from Tulane University.
Nik Wood, Senior Vice President - CCUS
DENBURY, Carbon Solutions
"The Future of Carbon CO2 Sequestration"
Nikulas Wood, Senior Vice President – CCUS, heads the Plano, Texas based energy company, Denbury Carbon Solutions team. Prior to being named Senior Vice President in April 2021, Mr. Wood served as Vice President – Rocky Mountain Region. During his tenure at Denbury, Mr. Wood has served in progressive leadership roles across the organization, including Director of Development Design, Gulf Coast Region Asset Manager, Manager of Acquisitions and Divestitures and Manager of Corporate Planning. Earlier in his career, Mr. Wood served in various reservoir, production and operations engineering roles, including positions at Republic Energy Inc. and Halliburton Energy Services. Mr. Wood earned his Bachelor of Science in Industrial Engineering degree from Purdue University and his Master of Business Administration degree from Southern Methodist University.
Ed Hirs, Energy Fellow Lecturer & TV Commentator
UNIVERSITY OF HOUSTON, KHOU TV
"Energy Economics 2023"
Ed Hirs teaches energy economics courses to undergraduate and graduate students within the department of economics at the University of Houston. He is also appointed as an inaugural University of Houston Energy Fellow.  He has authored and co-authored published opinion pieces on energy markets and corporate governance. He founded and co-chairs an annual energy conference at Yale University. He is frequently consulted by national and international media.  Hirs' articles and quotes have circled the globe with the impact of bringing apolitical, energy economic analysis—without the hyperbole of political agendas—to the forefront of discussion.  Hirs earned a Bachelor of Arts with honors and distinction, a Master of Arts, and a MBA in economics from Yale University where he also holds the designation of Chartered Financial Analyst.  With his co-authors in the Yale Graduates Energy Study Group, Hirs has published several referenced papers in energy economics available on ssrn.com.
Who Should Attend?
About 235 professionals & executives from 27 US states and 9 countries - as far and diverse as Japan, Kazakhstan, The Netherlands, UK, Venezuela, Poland, Spain and Canada joined 2022 EVC to gain a better understanding of current developments and geopolitical conditions of the industry. Attendees interacted and engaged with the leaders to discuss solutions to complex challenges faced by investors, appraisers, and clients during these volatile and challenging economic times.
The HOUSTON ENERGY VALUATION CONFERENCE is widely attended by accountants; appraisers accredited in business valuation, machinery & technical specialties, real property, and appraisal review; financial analysts, investment managers, economists; petroleum engineers, industry executives as well as expert witnesses of various valuation and forensic specialties.
What will attendees learn?
This broad-ranging conference facilitates opportunities to interact with key players from various segments of the value chain: downstream, midstream, upstream, and emerging trends in the growing renewables sector. EVC is unique in that it is the only multi-disciplinary conference with a focus on valuation techniques in all sectors of the energy industry. Networking and cross-referral opportunities abound when appraisers, accountants, investment professionals and industry leaders interact.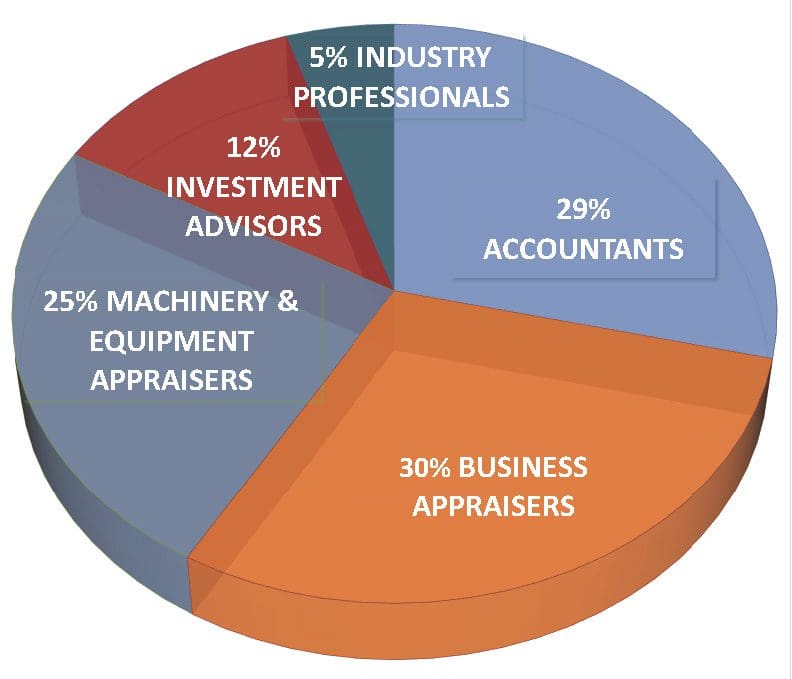 Why Attend?
Do You Have Clients in the Energy Industry?
"I will say that it was just as top-notch as it gets. The content was superb and the smooth tech operations really made it

one of the best virtual events

I've attended yet. Your speakers and sessions were, truly, spectacular."
Learn About the Outlook of the Energy Industry as it Transitions to Non-Carbon and Renewables.
"I thoroughly enjoyed the virtual conference - found it to be

very informative

and right on point given our current social and economic environment.

The

speakers were excellent

and I look forward to attending next year's conference - virtual or in-person."
Best Networking & Forum to Make Connections.
"Outstanding reception where industry & appraisers could mingle, network and talk about future business.

Energy Valuations are big money, and if I can gain one new appraisal, it will more than pay for my trip." International EVC Sponsor
Speakers are an Excellent & Well-Rounded Mix.
"I liked the way the

speakers expressed divergent opinions

vs the previous speakers, and were

bold enough to make predictions

." EVC Sponsor

Featured speakers were remarkable leaders from all sectors of the energy industry demonstrating a variety of perspectives in

all disciplines:

Business Valuation, Machinery & Technical Specialties, Appraisal Review & Management, Real Property, among other."
"Great program!  Getting Karl Bartholomew and the high-powered Commissioner Craddick was a real coup. 

The diversity of your speakers topically was very impressive.

  Looking forward to the next one."
Sponsor Chair:
Event Co-Chair:
Event 2nd Chair:
Laurie Leigh White
Carol Akers Klug
Atiba Henry
Education Credits: Up to 8 Hours CPE / CE
Format:
2023 EVC registrants may attend either IN PERSON at THE BRIAR CLUB, 2603 Timmons Lane, Houston, Texas 77027 or VIRTUALLY by LIVE WEBCAST from 8 am CST to 6 pm CST on May 11, 2023.  IN PERSON attendees will enjoy networking at our Fajita Lunch Buffet and Texas Appetizers & Cocktail Social from 6 pm CST to 7 pm CST.
Parking is FREE on the 3rd floor of the garage across the street from The Briar Club, walk across the SkyBridge to enter on the conference level.
IN PERSON and ONLINE tickets may be purchased below on the EVC webpage. For out-of-towners, the 4-star Hotel Derek, 2525 W Loop S, Houston Tx 77027 is convenient.
Registration
ASA Member
Non-Members
Early Bird (thru March 31)
$250
$275
Non-refundable after March 31. Before March 31 - refundable less $20 transaction fee.
Substitution of registrants is allowed through April 30.
Last day to register is two days before the conference.
No prerequisites or advanced preparation required.
A portion of net proceeds will be donated to one or more 501(c)3 entities.
For the safety of our community, we will adhere to all COVID-19 protocols.  

The expectation is that all attendees are fully vaccinated with booster.
Registrants may swap from "IN PERSON" to "ONLINE ONLY" or vice versa at no charge through April 30. Just email caklug@swbell.net to make the change.
CPE credits will be provided by BVR which is approved by the National Association of State Boards of Accountancy (NASBA) for self-study CPE delivery. For more information on eligibility by state, please consult NASBA's website or your state board of accountancy.
HOUSTON

2023 ENERGY VALUATION CONFERENCE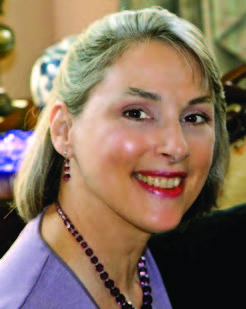 Carol Akers Klug ASA MBA
EVENT CO-CHAIR
Appraiser of the Year - 2021       
The Appraisal Foundation - Business Valuation Resource Panel
ASA Education Foundation Board Member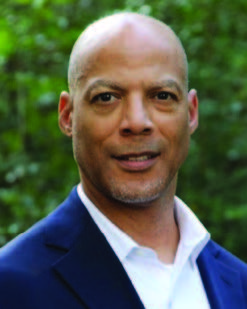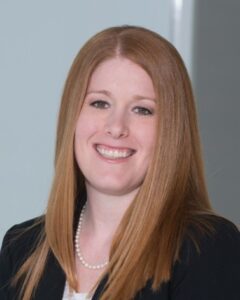 Laurie Leigh White ASA CEIV IA CPA
SPONSOR CHAIR 
Appraiser of the Year - 2022
BV Discipline Secretary
Board Of Examiners Member
2021-2022 Advanced BV Conference Chair